>
The following is very true and current as of today, 8/25/2012. Now, the damn thing doesn't hit a lick and I have no way to get it repaired. Please read this page and be very warned. Thank you, Larry
That was an exact quote this guy gave me in an e-mail when I asked him a question.
Warning!!!
Do not buy
A "Plasmadyn M50©" Plasma Cutter or anything else from this person.
Do not deal with Richard Bell
In my opinion he is not an honest person.
He is in Saint Louis, Mo. The last number he gave me was. 573-259-XXXX. (It is bogus). It was also someone else's number, so I can't print the one he gave me.
There is something wrong with any business that doesn't give you a phone number or doesn't have it or their address on their site. Check it out yourself.
If you don't believe me, check out this shipping label.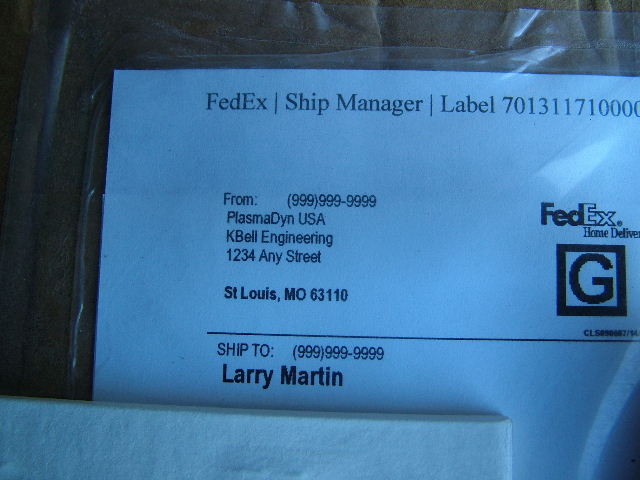 All he wants is your money, service is out of the question. You better hope you don't need it.
Here's the true story for your reading enjoyment.
I bought a Plasmadyn M50 through E-Bay for $549 plus shipping of $59 for a total of $608. I paid via PayPal immediately.

The shipping was fast and the unit was well packed.

I installed the unit per instructions. Really easy, just the air filter and plug for 220 single phase. I had two of my buddies over at the time. One is a maintenance supervisor at a local factory and the other is an A&P aircraft mechanic. We sorta know what we are doing.

The unit did nothing other than blow air. We checked and double checked to make sure we followed instructions. We did.

I often remove covers off my equipment to blow them out. I have a Lincoln arc welder, a Miller mig welder, plus various other equipment. Things get dirty and must be blown out in order to last. I do a lot of fiber glassing and things really get dirty. This is normal and should not void any warranty.

Plus the Lincoln and Miller are both 220 and share the same receptacle, (not at the same time of course). So I know my power source is good.

I removed the cover off the M50 and here is immediately what I found.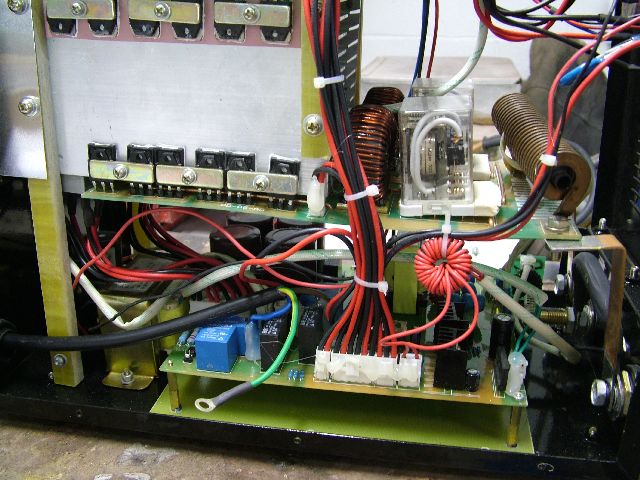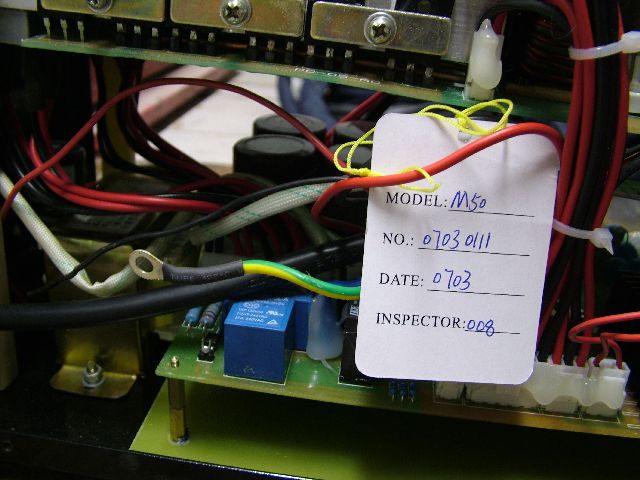 Notice the green wire. It's the ground wire to the power plug. It's not necessary for the machine to function, but a good idea to have hooked up. So I knew that was not the problem, put the cover back on and e-mailed the seller. Tells you something about how well they are inspected doesn't it? See the inspection tag.

Seems like they really wanted to work with me. They arranged for the pickup quickly and shipped me another the next week. So far so good.
I hooked this one up. The Plasma and Tig functions did not work. But the arc welding(stick) welding worked fairly well. It seemed weak compared to my Lincoln. In other words it took more amps to burn the same rod. I have been welding for 40+ years.

Again I had friends over to see what was going on just to make sure I wasn't missing the obvious. I wasn't.

I did not open the case.

In the mean time I got an e-mail from Richard Bell telling me that the first unit had a loose wire, they tightened it, it worked fine and they sold it to another customer who was happy. Well at that time he didn't know I opened the cover. That's the first lie.

Here again they seemed like they wanted to work with me. Picked it up and shipped another one fairly quick.
Got the third machine, hooked it up. Checked to make sure everything was right and the power switch was off. Plugged it up. The fan inside the machine came on and would not shut off. In addition to the fan, nothing worked, not even the stick welder.

Other people with considerable mechanical and electrical skills saw this.

I had even asked him to put a plug on the machine and check it before he shipped it. It was very obvious by looking at the end of the power cord that here had never been plug on it.

I did not open the case.

E-mailed them again and they had it picked up.

At this time I do not have a machine and will not accept another one, three DOAs is enough. I want a full refund, $608.
I got an e-mail from Richard Bell telling me that all three machines worked fine when they got them back. He even repeated the lie about the loose wire. Well that's three more lies.

I have built 20 show cars, 4 aircraft, many computers, wired entire houses, ran a major computer center for 30 years, welded for 40. Is Richard Bell really so stupid to think I can't hook up 220 wiring to a simple little machine? I've done it a hundred times.

If someone doubts my skill level, check out my site SkyHawg.com.

He has offered me a refund. Get this, minus $59 for shipping, minus %25 restocking fee. That would mean of the $608 I spend for absolutely nothing I would receive a refund of $376.50. I say BullShit!!!

I have never received a working machine.

I am proceeding with a protest at PayPal and E-bay and will file in a small claims court in Saint Louis if I have to. It's only 6 hours from me, not a problem to go there. I will be damned if he get away with this.
He finally sent me a fourth machine the other day. Actually he just sent back the third one after I explained to him that I would take him to court and he couldn't win because he had my money and I had nothing. So he sent the machine so I would have something. At least that is is warped logic.

He actually paid to send it to me. That's where label above came in because I told him I lost his address.

The fan still ran all the time. I went ahead and rewired the fan and was able to get the machine to work. There was no need of trying to get him to do anything.

He actually said this in another e-mail after I informed him I fixed the machine:

"I can assure you, absolutely NOTHING was done to the machine you have since you sent it back to me." This was my answer, " That's another absolute bold face lie. There was a new power cord on it. It was longer and had not had a plug on the end on it." What a liar this guy is!!!

He is really a piece of work. He also said he had an Electronic Technician check the machine and there was nothing wrong with it. I guess the fan running continuously is what it's supposed to do.

I'm done with this guy. He wants me to remove this site, but that ain't gonna happen until I tire of it.
This guy works out of his house and sells Chinese Shit.
we decide a long time ago to re-send the working machine that you were unable to work yourself.
In fact, PlasmaDyn either owes you nothing legally, or shall not owe you anything in the very near future. We are under no obligation to answer your email.
The real problem Mr Martin, is, well, Sir, you are an ignorant asshole who deserves absolutely nothing else from this company. But, nevertheless, we do the right thing regardless of how utterly ignorant a customer is.
Funny thing, of the hundreds of customers we have had, we only have ONE that is as an ignorant asshole as you sir.
So, we are sending you a working machine, intact, with everything you sent us, and we are again PAYING YOUR BILL AGAIN.
If you refuse it, I'll give it to my neighbor.
Be aware all email you send will be blocked and will never be delivered.
SORRY LARRY, BUT NO ONE WILL EVER PAY ANY MORE ATTENTION TO YOU.
One more thing, and LISTEN CARFULLY LARRY. We have consulted our attorney to review this issue. Should he decide you have injured our business in any way, you will again have the opportunity to speak to me, but it will be thru the attorney you hire to defend yourself.
Toodles.
PlasmaDyn.
One thing I've learned, buy Made In the USA.
You have been Warned.
Larry Martin
Cabot, Arkansas